Dry Heat Sterilizer or ampoule vial sterilizer is suitable to sterilize washed ampoules, vials and bottles. It is made from MS heavy angles and inner wall made from Stainless Steel 316 & outer wall made from Stainless Steel 304 materials. Our double door DHS is made in accordance with the requirement of cGMP standards approved in Injectable pharmaceutical plants maintain class 100 environment. All contact parts are made from Stainless Steel 316L or FDA approved materials for cGMP compliance.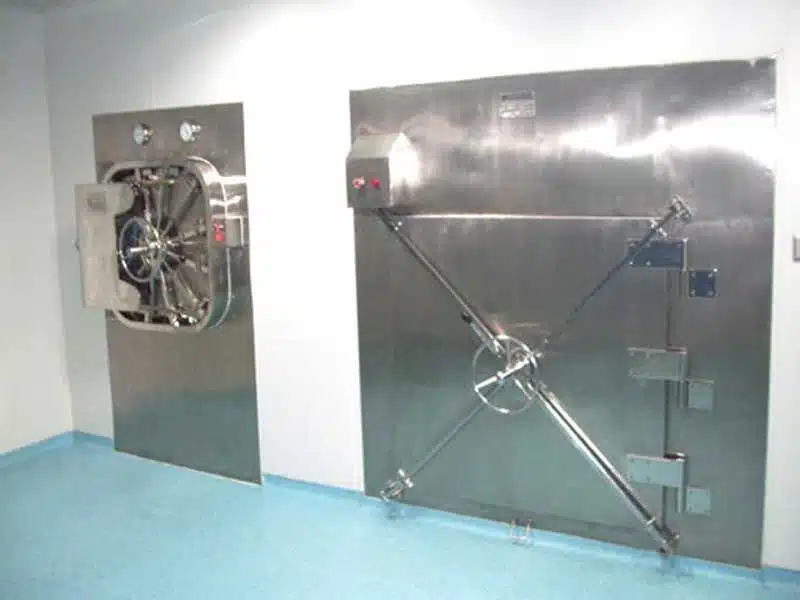 Process Operation of Sterilizing & Depyrogenation Tunnel
The Ampoules / Vials placed in trays are washed in non-sterile room and loaded on the trolley. The trolley is moved to the sterilizer on a transfer trolley. Temperature and Times are set on the Digital Controller. The Impeller mounted on the top circulates the hot air horizontally over the charge. The air is heated by elements mounted on the top. Fresh air enters the system through Hepa Filter Module. The system incorporates two doors, one opening into the sterile room and the other opening in the non-sterile room. Both the doors are pneumatically interlocked. The temperature profile during sterilization cycle is recorded on a circular chart recorder, validation of the system is provided by a six-point digital temperature scanner. After the time period required for sterilizing the batch has elapsed, the heating circuit shuts of the pneumatics damper (exhaust) opens and cooling operation commences.
| Temperature | Up to 250 degree C |
| --- | --- |
| Structure | Made of M. S. heavy angle. |
| Sterilizer wall | Inner wall made from Stainless Steel 316 quality sheet & and outer wall made from Stainless Steel 304 quality sheet |
| Doors | Door will be provided on both side one opening in sterile area (filling) and other opening in non sterile area (washing). |
| Insulation | A grade mineral wool insulation to optimize heat effectiveness and stop heat loses. |
| Fan | Dynamically balanced fan provided for hot air circulation to achieve uniform temperature |
| HEPA Filter | Pre-filter up to 5 microns, a blower & a HEPA Filter up to 0.3 microns |
| Electric | Total 9 K.W. heaters for the Sterilizer, 1 H.P. for blower and 0.75 H.P. for HEPA filter |
| Trolley | Fabricated from Stainless Steel 316 angles and flat with 'U'- grooved Stainless Steel wheels. |
| Transfer Trolley | Fabricated from Stainless Steel 304 quality angles and flat with castor wheel for sterile and non-sterile room. |
| Temperature Control & timer | A combined Electronic Digital Controller & Timer is installed. ±2ºC., one probe centrally mounted. |
| Temperature Recorder | A, 1 point Circular Chart recorder is installed with chart Dia 8". |
| Exhaust Damper | Controlled by solenoid valve and is opened during initial heatup, shuts off and re-opens during cooling cycle. |
| Control Panel | Made of Stainless Steel 304 |
| Finish | All Stainless Steel components buffed to matt finish |
* Power voltage can be adjusted as per customer's domestic power voltage requirements.
* Rights of technical improvements & modification reserved.
* Illustrations & dimensions are shown for information purpose only.