The incoming dry bottle is fed through the Infeed Turn Table with suitably guided on the moving conveyor belt at the required speed for feeding. There are two separate filling head mounted on machine top plate in the same line. When bottle reaches to the first filling station, it will be held by the bottle holder. Immediately it will be sensed by the bottle sensor as soon as it gets signals from sensor magnetic clutch starts to rotate which is mounted on auger shaft. It will fill the desired amount of powder to the bottle through auger, where rotation time is previously saved in PLC control. After filling of first bottle star wheel picks up a bottle and release the first bottle to move on conveyor, by the same time second bottle also moves along with the first bottle in empty condition. In second filling head same operation will be performed but this time second bottle get filled and first bottle moves further for next operation. The main advantage of this machine is star wheel pick up system of bottle is directly connected with Auger rotation, so till bottle get filled with powder as per set value.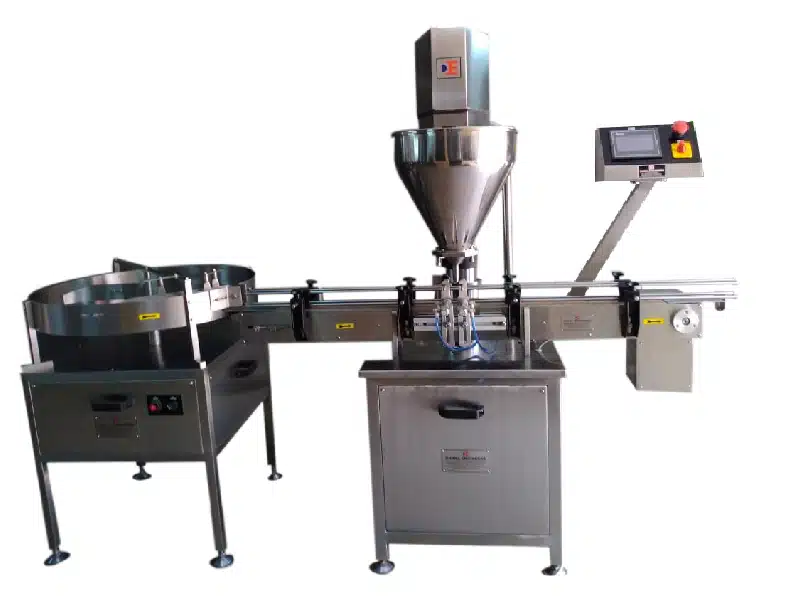 Total Compact cGMP Model.
All Parts And Assemblies Coming In Contact With Powder And Rubber Stopper Are Made Of S.S.316 And Easily Removable For Mandatory Autoclaving/ Sterilization.
"No Bottle, No Fill" System Eliminates Wastage Of Costly Powder.
Conveyor Driving Is Through High Quality Imported Gear Motor
Machine Speed Can Be Adjusted By A.C. Frequency Drive, Which Is Time Saving.
Machine Is Provided With Conveyor Belt To Avoid Sticking Of Vial On Conveyor.
Single Track Bottle Movement, Reduces Setting Of Supporting Guide Rails And Semi Skilled Person Can Also Easily Operate the machine.
Total PLC Control For The Machine.
Star Wheel Bottle Holding System Is Connected With Auger Rotation, Which Eliminates Chances Of Bottle Transfer Before Completion Of Filling Operation.
Change Parts Are Required For Any Change In Bottle Diameter From 30 To 120 Ml. Imported Gear Motor For Conveyor Drive. – PLC Control For Machine.
A.C. Frequency Drive For Conveyor Drive. – "No Bottle, No Filling" System.
Star Wheel & Back Guide For Bottle Holding System.
Model
DAPF-30
Production Rate
15 to 30 Bottles/Minute
Container Diameter
25mm to 90mm
Container Height Filling Range
36mm to 300mm 5 gm to 200 gm in single stroke with the help of dosing time and/or with help of change parts
Filling Accuracy
± 2 to 3.5% depending upon consistency & uniformity of powder.
Electrical Characteristics
1.5 HP, 3 Phase, 4 Wire System, 50 Hz
Utility
Air – 30 CFM @ 5 bar
Optional Accessories
Aluminum Profile Cabinet
Change Parts
Infeed & Outfeed Worm
Infeed & Outfeed Inverter
Infeed & Outfeed Star Wheel