Empty washed or sterilized ampoules fed into Hopper from the left hand side of the machine. Ampoules fed through feeding cassette to receiving rack. The moving rack which moves horizontally collect Next ampoules from the receiving rack and transfer the Ampoule to the machine in left to right in an inclined position through pre-gassing. Pre-gassing, Filling, Post Gassing, Pre-heating & sealing stations completes filling & sealing operations. Filled & sealed ampoules are collected automatically in SS tray in upright position without hand touch.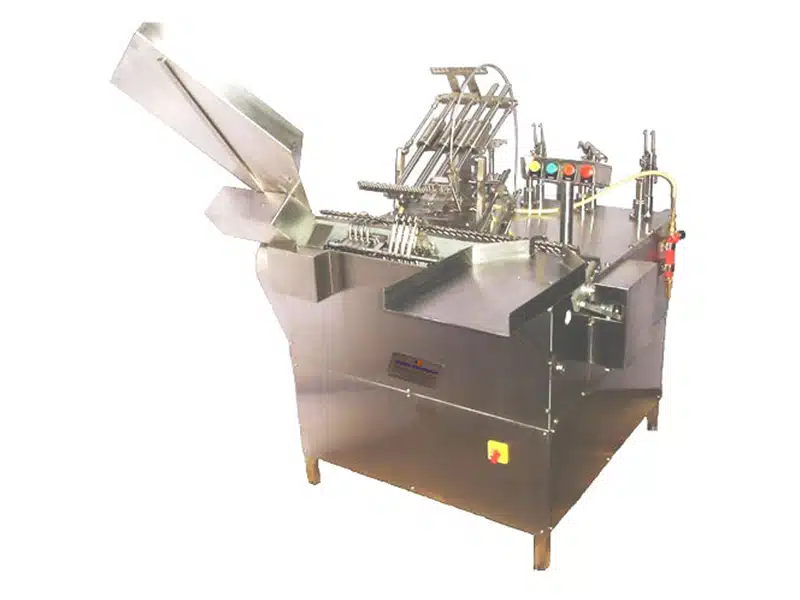 Automatic Single, Two & Four Head Ampoule Filling & Sealing Machine Manufacturer
The eccentric rack system is solid & rugged with precise grooves to ensure perfect positioning of ampoule at all operational points.
All cams inside machine are steel cast to achieve better hardness and long trouble free life. Further, special jigs and fixers are created to ensure repetitive accuracy of each part.
All internal cams are finally set & fixed with taper set pins to ensure that no setting required, even after a long time of usages. Further, the set pins ensure perfect positioning, while refitting.
All internal plates are of MS duly safe & painted before SS cladding from outside; impart perfect fixing & total alignments.
The filling Head sliding bracket, the heart of the machine is perfectly shaped & lapped to achieve play less performance.
SS 316 perfectly ground syringes for accurate filling.
Specially designed needles with spring loaded valves to ensure drip proof performance and easy of cleaning and mandatory sterilizations.
Absolute, positive mechanical ' No Ampoule, No Filling' device.
Technical Specification of Automatic Single, Two & Four Head Ampoule Filling & Sealing Machine
Model
DAFS-35
DAFS-55
DAFS-100
No. of Filling Head
Single
Two
Four
Output
10 to 30 Ampoules/Min
25 to 50 Ampoules/Min
50 to 100 Ampoules/Min
Ampoule Size:
1ml to 10ml Ampoule
1ml to 10ml Ampoule
1ml to 5ml Ampoule
Overall Dimension       
750mm LX 500mm W X 1000mm H
900mm LX 750mm W X 1000mm H
1050mm LX 800mm W X 1000mm H
Power Specification
0.5 HP, 3 Phase, 440 Volts, 50 Hz, 4 Wires System
0.5 HP, 3 Phase, 440 Volts, 50 Hz, 4 Wires System
1 HP, 3 Phase, 440 Volts, 50 Hz, 4 Wires System
Change Parts
– Star Wheel
– Needle Set
– Syringes
– Star Wheel
– Needle Set
– Syringes
– Star Wheel
– Needle Set
– Syringes