The bottles are loaded on rotating platform where bottles are getting cleaned in a series of operations. The bottle holder i.e. nylon cups are specially designed to accommodate bottles with varying neck diameter and bottle diameter. The bottles are placed in an inverted position in cups. The external cleaning of the bottles is done by spraying showers. Solenoid valves are provided to enable the regulation of timings and sequence of various washing media to suit specific requirement.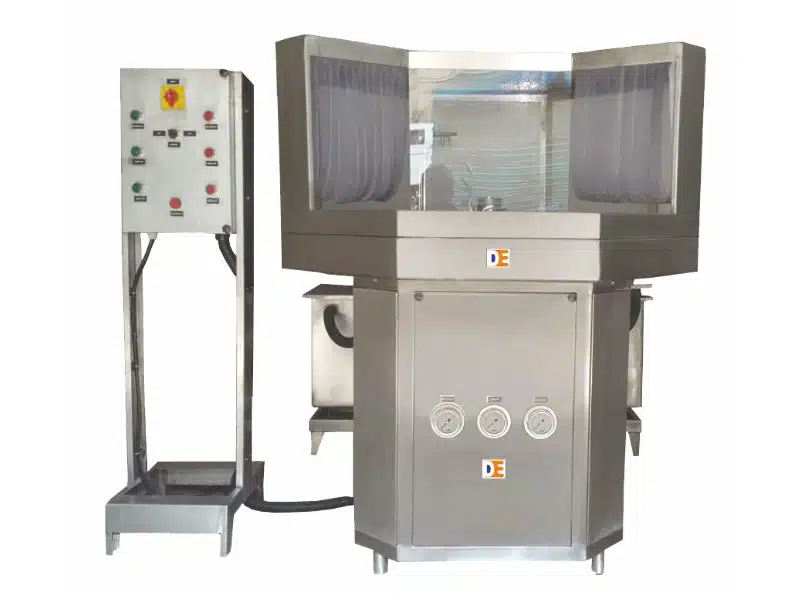 The specially designed cups are provided on the platform to accommodate any size of Bottle from 100 ml to 1000 ml.
Easy loading and unloading with two rows.
Individual solenoid valve for each washing sequence.
Pumps and tanks are mounted on parable stand for easy maintenance.
Compact GMP model.
Geneva mechanism.
Four internal, one external and one air wash.
Washing Sequences and positioning of washing stations can be interchanged as required for liquid oral & injectable.
Stationary nozzles eliminate contamination of water cycles.
| | | |
| --- | --- | --- |
| Model | DRBW-60 | DRBW-100 |
| Output | 40 to 60 Bottles/Minute | 60 to 100 Bottles/Minute |
| Direction of movement | Clockwise | Clockwise |
| Diameter | 30mm to 100mm | 30mm to 80mm |
| Electrical Characteristics | 1.5 HP, 440 Volts, 3 Kw, 3 Phase, 50 Hz, 4 Wire System | 1.5 HP, 440 Volts, 3 Kw, 3 Phase, 50 Hz, 4 Wire System |
| Air Pressure Required | 6 bar@5 CFM | 6 bar@5 CFM |
| Tank Capacity | 75 Liters, SS 304 (2 Nos.) | 75 Liters, SS 304 (2 Nos.) |
| Water Cycle | 4 Inner + 1 Outer | 4 Inner + 1 Outer |
| Working Height | 850mm to 900mm | 850mm to 900mm |
| Change Parts | (A) Neck Diameter: Bottle holding pocket. | (A) Neck Diameter: Bottle holding pocket. |
|   | (B) Flat Container: Special type of cup. | (B) Flat Container: Special type of cup. |
| Overall Dimension | 1500mm (L) x 1750mm (W) x 1300mm (H) | 1500mm (L) x 1750mm (W) x 1300mm (H) |