The sterilized powder is stored in powder hopper is agitated by pair of mechanical agitators for maintaining consistency and uniform bulk density. The powder wheel having eight ports rotates at the pre determined speed below the powder hopper with practically no clearance. Powder wheel consist of Piston in each port and behind the powder wheel vacuum plate is provided there is no clearance between powder wheel and vacuum plate due to back spring pressure. Precise volume of powder is sucked in to the port of powder wheel during vacuum according to the piston length different fill size can be achieved. 
The excess powder is doctored off by a doctor blade. Doctor blades can be adjusted from outside also without removing powder hopper. When powder wheel indexes further and remain in the port due to the vacuum till it reaches just vertically above the container. The time dose of Compressed air (Nitrogen Gas), sterilized low pressure air sequentially flushes out powder from the port of powder wheel in to the container one by one. The filled containers are immediately separated on the conveyor by vial separator and moves further for stoppering operation. (Different grooves separator can be used which depends on the container diameter or multiple dosing systems). The sterilized, siliconised, rubber stoppers stored in the vibrator bowl moves to vibratory bowl and stacked vertically in the rubber stopper chute. The container is hold firmly between pair or timing belt to pickup rubber stopper from exit end of the chute. Further the container is passed between two pressing roller for tight fit fixing of rubber stopper.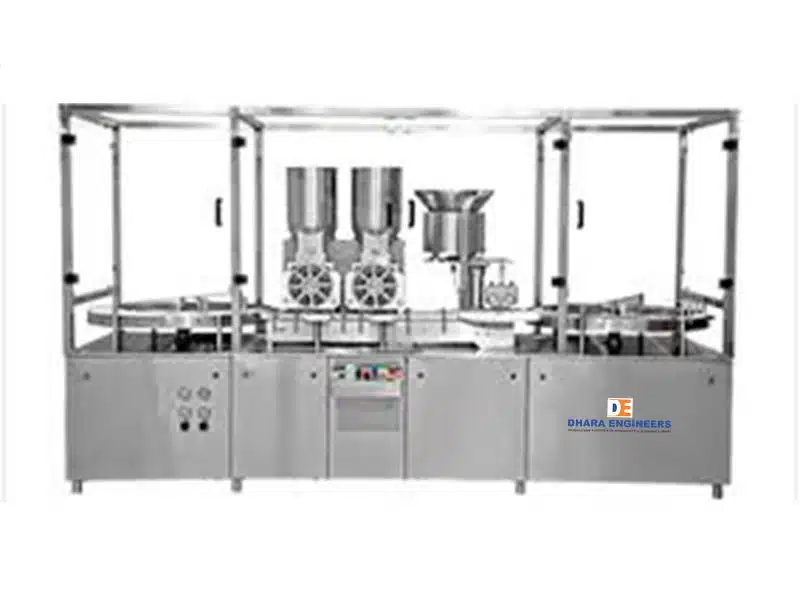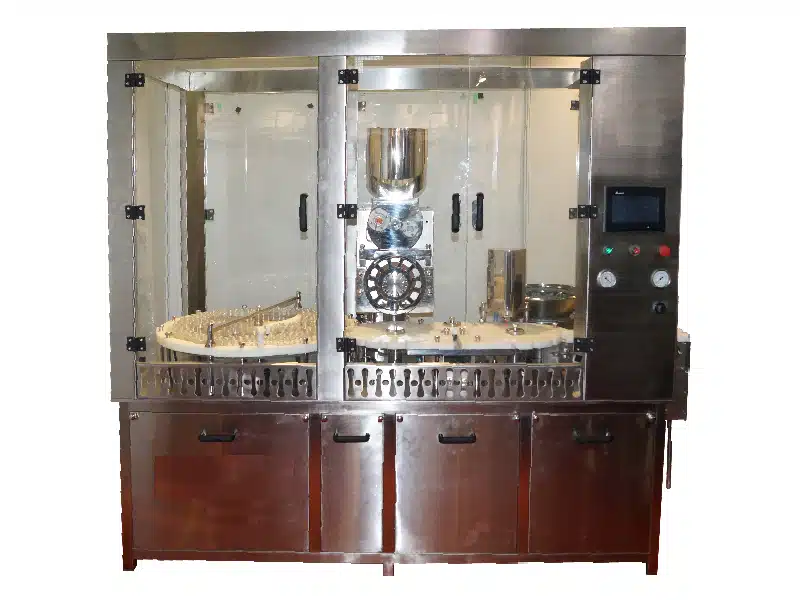 Compact cGMP model.
"No Vial, No Filling" system eliminates wastage of costly powder.
Multiple Dosing system.
High Volumetric Filling Accuracy of ±1% of uniform density Injectable powder can be
Built-in Rubber Stoppering Unit saves lot of space in the Sterile Area & reduces the length of Laminar Flow.
Individual drive for the filling & sealing to match the speed of filling & sealing.
All motors are provided with appropriate contractors and relays for the protection against any overload or jamming.
Safety clutch system to avoid Vial breakage.
Variable Frequency Drive for speed control.
All contact parts are easily removable for mandatory Autoclaving/ Sterilization.
Digital counter for counting production output.
| | | |
| --- | --- | --- |
| Model | DPFS-120 | DPFS-240 |
| Production Rate | 30 to 120 Vials/Minute | 60 to 240 Vials/Minute |
| Container Diameter | 25mm to 38mm | 25mm to 38mm |
| Container Height | 36mm to 75mm | 36mm to 75mm |
| Rubber Stopper | 20mm, 28mm & 30mm Butyl | 20mm, 28mm & 30mm Butyl |
| Fill Capacity | 50 mg. to 1.5 gms with the help of change parts. Up to 6 gms filling by multiple dosing. | 50 mg. to 1.5 gms with the help of change parts. Up to 6 gms filling by multiple dosing. |
| Accuracy | ± 1% depending upon consistency and uniformity of bulk density of Injectable Powder under controlled level of humidity (Below 28% Rh) | ± 1% depending upon consistency and uniformity of bulk density of Injectable Powder under controlled level of humidity (Below 28% Rh) |
| Optional Accessories | Pure Air Filter, Vacuum Pump Oil Free Air Compressor Online Pre-Media Filling Arrangement Programmable Logic Control (System) with MMI Aluminum Profile Cabinet covering full machine | Pure Air Filter, Vacuum Pump Oil Free Air Compressor Online Pre-Media Filling Arrangement Programmable Logic Control (System) with MMI Aluminum Profile Cabinet covering full machine |
| Utility | – | – |
| Compressed Air | Max. 2 Kg./Cm² Oil Free | Max. 2 Kg./Cm² Oil Free |
| Vacuum | 25 Hg. @ 300 LPM Displacement | 25 Hg. @ 300 LPM Displacement |