Containers are fed in upright position on an Un scrambler and further fed to Feed Worm, Where they are automatically inverted. The synchronized star wheel feed the container one by one through a chamber, which is under negative pressure. A series of nozzles blow air in the container at a high pressure. The dust is collected in the bottom hopper, where it is exhausted through a Exhaust fan in dust collector box.
The container is further fed through the synchronized star wheel and feed worm. It is once again inverted and comes out duly cleaned in upright position for further operation.
Machine provides 6 air washes.
All contact parts made out from SS 304.
Entire frame covers & non contact parts made out from SS 304.
Over load clutch is provided to prevent jamming on machine.
Quick change over with minimum use of tools.
Used in product like dry Syrup, Tablet, Capsule etc.
No external lubrication required.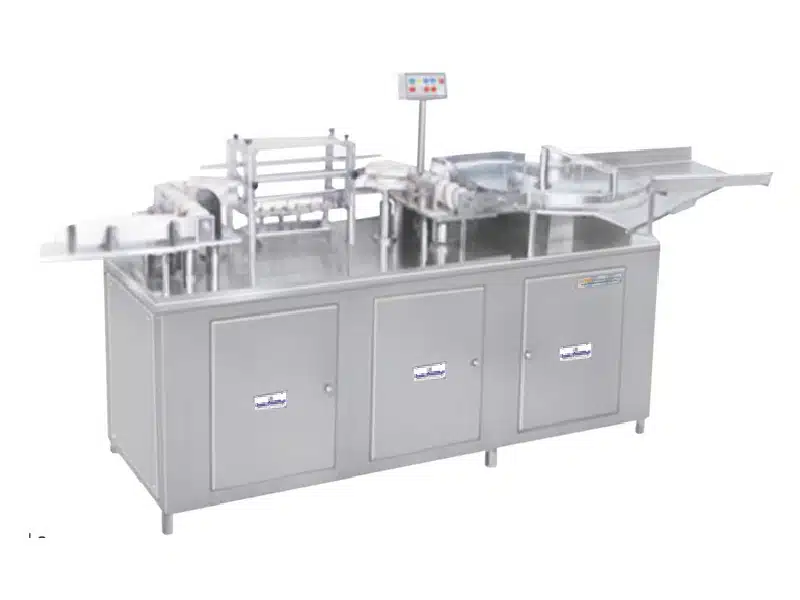 | | | |
| --- | --- | --- |
| Model | DAVC-60 | DAVC-120 |
| Production Rate | 30 to 60 Bottles/Minute | 60 to 120 Bottles/Minute |
| Container Diameter | 25mm to 60mm | 25mm to 60mm |
| Container Height | 45mm to 110mm | 45mm to 110mm |
| Power Specification | – | – |
| Main Machine | 1.00 HP | 1.00 HP |
| Blower | 0.50 HP | 0.50 HP |
| Electrical Characteristics | 440 Volts, 3 Phase, 50 Hz | 440 Volts, 3 Phase, 50 Hz |
| Utility | Air – 30 CFM @ 5 bar | Air – 30 CFM @ 5 bar |
| Optional Accessories | Air Filter & Regulator | Air Filter & Regulator |
| – | Bottle Inspection Station | Bottle Inspection Station |
| Change Parts | Infeed & Outfeed Worm | Infeed Worm |
| – | Infeed & Outfeed Inverter | Infeed Inverter |
| – | Infeed & Outfeed Star Wheel | Exit Star Wheel |
| Overall Dimension | 2000mm L x 850mm W x 915mm H | 2000mm L x 1000mm W x 915mm H |