Machine conveyor receives Container from infeed Turn Table, it separated by the feeding roller assembly to maintain the Pre determined space between the Two containers according to the Label Length and Container Diameter. Label is placed on the container immediately when it sensed by the Container sensor, it ensures instant adhesive of label's edge. Then it passes through the pressing unit resulting in precise registration and crease free application. It can handle container diameter range from 22 mm to 105 mm and label height from 10 mm to 200 mm, change over can be done within few minutes, label height from bottom can be also adjustable for different kind of containers.
S.S. 304 Constructions.
Micro processor Control unit with LCD Display.
Secondary Pressing unit. Stepper Motor with Controller.
Any kind of printing device can be accommodated with machine.
Imported Motor & Gear Box for Conveyor and Pressing unit.
Variable A.C. Frequency Drive for speed adjustment.
Command in LCD display allow to choose Automatic & Manual operation.
Accurate label placement.
Full Pharmaceutical security package system. In built Speed Indicator & Counter.
Imported Sensor for Label & Container.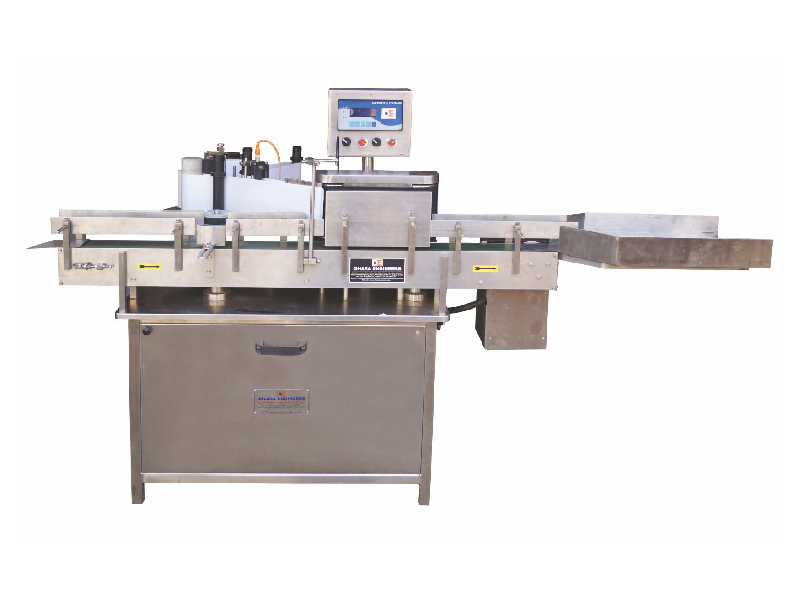 Model
DVSL-100
Output
50 to 100 Container/Minute
Container Diameter
22mm to 105mm
Container Height
10mm to 160mm
Label Length
12mm to unlimited
Label Roll Diameter
300mm Max.
Power Specification
–
Electrical Characteristics
1 HP, 220 Volts, Single Phase, 50 Hz
Optional Accessories

Inkjet Printer
PLC with HMI
Aluminum profile cabinet covering full machine